Excise department and Police confiscated 10000 Kg Lahan and 1200 bottles of illicit liquor

Chandigarh: The Excise Department and Police on Friday recovered about 10,000 kg of Lahan from the tarpaulins hidden in the river water during a search operation at the village Habib Ke falling on the banks of river Sutlej river near Ferozepur city.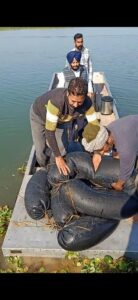 Disclosing this here, a spokesperson of the Excise Department said that around 1200 bottles of illegal liquor packed in 7 plastic tubes were also recovered during this joint operation by the Excise Department and police. He said that the recovered liquor was destroyed on the spot at a dry place.