CM Mann intensifies war against drugs, orders confiscation of properties of drug smugglers

Punjab E News: Intensifying the fight against drug menace in the state, Chief Minister Bhagwant Mann today directed the authorities to attach the properties of smugglers involved in the heinous crime of drug smuggling.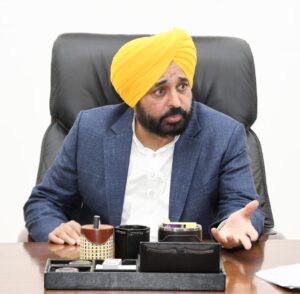 Chairing a meeting to review the law and order situation in the state, the Chief Minister reiterated the state government's firm commitment to root out the drug menace.
He said the state government had already brought the big fish involved in drug smuggling behind bars. He said that strict action should be taken against the drug smugglers and their properties should be confiscated immediately.
The Chief Minister said that if necessary amendments to the act were required, it would be done immediately. The Chief Minister also made it clear that if a case of sale of drugs came to light in the jurisdiction of a police officer, then that officer would be responsible for this negligence. Bhagwant Mann said that strictest action will also be taken against the officers involved in drug smuggling.
The Chief Minister asked the officials to ensure that the villagers unanimously pass resolutions to make their respective villages drug-free. Bhagwant Mann said that priority would be given to give them grants and other benefits given under the Rural Development Fund. He said that the security of the villages passing the resolution will be fully ensured.