Bhagwant Mann government takes a big initiative to provide sand on affordable rates to people-Kuljit Singh Randhawa

Punjabenews: On the occasion of dedicating sand mines to the people of the state by Bhagwant Mann government, MLA from Dera Bassi S. Kuljit Singh Randhawa said that the Punjab government has taken a historic decision to provide sand at reasonable prices of Rs 5.50 per cubic feet.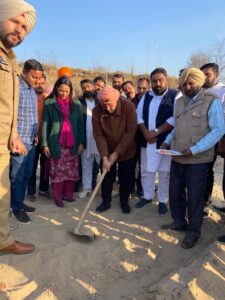 Today, dedicating three mines of Dera Bassi area to the people, Mr. Randhawa said that now the people of this area have not to buy expensive sand for construction works. He said that with this decision, the government has fulfilled another promise made to the people. He said that now the government has eradicated the sand mafia. This will provide sand to the people on affordable price. With this decision of Bhagwant Maan government, the people will get a big relief. Mr. Randhawa said that, in a step towards providing affordable sand to the people of Punjab, the Government of Punjab has taken a new initiative and has opened sites for public in 7 districts of Punjab. On these lines, Tangri River mine site located in district SAS Nagar is inaugurated today.
He said that, from these mine sites, anyone can purchase sand which is opened today for general public. The charges are fixed at Rs. 5.50/- per cubic feet. These sites are  opened with the aim of providing sand and gravel at regulated and reasonable rates to curb the menace of hoarding and black marketing of minor minerals in the district.  He said, with this initiative, the people of District as well as of Punjab state will get benefit of getting sand at Govt. controlled rate of Rs. 5.50. Anyone from these sites can get sand by manual excavation and by carrying their own labor and vehicle for the transportation. Use of heavy machinery at these sites for excavation of sand is barred and only manual labour is allowed at these sites. To ensure that there is no illegal mining at the site, strict nakabandi of the roads leading to the site will be ensured.
On the occasion ADC (G) Mohali Ms. Amninder Kaur Brar, SDM Derabassi Mr. Himanshu Gupta, Mr. Lakhbir Singh, SDO, Derabassi, and sarpanches of around the Tangri villages were also present.