Teacher's Day celebrated in Innocent Hearts Group: Students expressed respect towards their teachers

Jalandhar News: On  the birthday of Dr. Sarvepalli Radhakrishnan,Teacher's Day, celebrated  in the five schools of Innocent Hearts Group (Green Model Town, Loharan, Nurpur Road, Cantt. Jandiala Road and Kapurthala Road), Management College and Innocent Hearts College of Education.  continuously praised the teachers.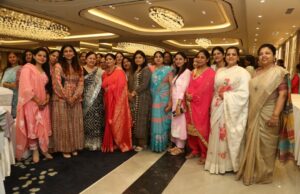 The day to  express respect towards teachers through a number of activities under the theme 'My Mentor, My Guide' to reflect their guidance, support and significant role to shape the life of youth. Thank you cards were given to the teachers along with this, they presented their feelings to their teachers through singing, poetry and dance performances. The little children of Innokids presented badges to their teachers and gave cards with beautiful messages written in small hands to their teachers. 
      On this occasion, colorful cultural programs, many activities and fun games were organized by the management especially for the teachers, in which the teachers participated with great enthusiasm.  The winning teachers were rewarded in fun games. On this occasion, special arrangements were made by the management for lunch for the teachers.  Innocent Hearts Chairman Dr. Anup Bowry congratulated all the teachers on the occasion of Teacher's Day and said that teachers are the architects of the society, who build an advanced society.
        Underlining the important contribution of teachers in the lives of students, he said that teachers play an important role in the lives of students.  Along with education, the main aim of the teacher should always be to be ready for the all-round development of the students.  All the teachers who awaken the light of knowledge among the students deserve praise and congratulations.