Sorry state of affairs in Shatabdi, door panel fells on passengers

New Delhi: In a reflection of sorry state of affairs in New Delhi Amritsar Shatabdi Express door panel fell over three passengers when a lady passenger opened the door of the train while travelling to Amritsar.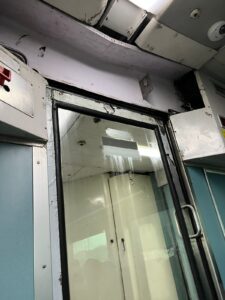 A lady passenger sitting on seat number 21 in coach number C 13 had opened the door after the train had left from New Delhi station towards Amritsar. As soon as the female passenger opened the door the panel on it comprising steel and other heavy material fell on her and passengers sitting on seat number 2 and 3. Though the passengers sustained minor injuries but the incident reflected the worry state of affairs of the Indian Railways. Meanwhile, as usual the railway officials started the exercise to hide their failures.