NIA arrests Khalistani terrorist Khanpuria, carried a reward of Rs 5 lakh

New Delhi: In a major breakthrough, the National Investigation Agency (NIA) has arrested Kulwinderjit Singh alias Khanpuria, a member of the alleged terror outfit Babbar Khalsa International, who was earlier an absconder.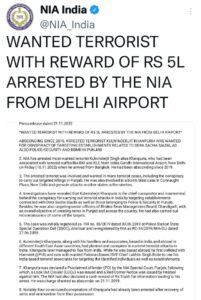 Khanpuria was arrested on Friday while he was trying to enter India to plan terror attacks.
Intelligence sources said Khanpuria was living in Pakistan and had reached India via Thailand.
He was detained at Delhi's Indira Gandhi International Airport and then taken into custody by the NIA. He has now been taken to Mohali for questioning. A red notice was issued against Khanpuria in February this year.
Khanpuria is said to be close to alleged Khalistani terrorist Harwinder Singh Rinda, who is believed to be the mastermind of the grenade attack on the intelligence agency's headquarters in Mohali in Punjab in May this year. He carried a reward of Rs 5 lakh from the centre agency.