Punjab DIPR Organises Sri Dikhani Sahib To Mark Prakash Purb Of Sri Guru Gobind Singh 

Punjabenews: Punjab Information and Public Relations Department on Wednesday observed the Prakash Purb of Sri Guru Gobind Singh ji with full devotion and religious fervour at Gurdwara Sahib of Punjab Civil Secretariat-1 here.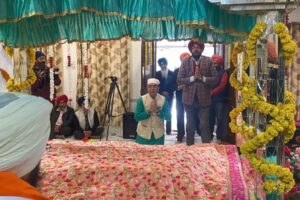 Punjab Finance Minister Advocate Harpal Singh Cheema, Information & Public Relations Minister Mr. Aman Arora, Agriculture Minister Mr. Kuldeep Singh Dhaliwal, Principal Secretary Information and Public Relations Mr. Rahul Bhandari, Director Ms. Sonali Giri, Additional Director (Admin) Mr. Sandeep Singh Garha, Director Media Communication to Chief Minister Mr. Navneet Singh Wadhwa joined the staff of DIPR and Punjab Civil Secretariat to pay obeisance and seek blessings from the Almighty.
Sri Sukhmani Sahib Paath and Ardas was organised for Sarbat Da Bhalla (Blessings for Everyone). Following which shabad kirtan was recited by Bhai Tejinder Singh Shimla Wale.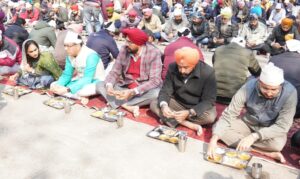 Following Guru Sahib's teachings of equality, Cabinet Ministers Mr Aman Arora and Mr Kuldeep Singh Dhaliwal, and MLA Dharamkot Mr. Devinderjeet Singh Laddi Dhose partook langar.
Large number of media fraternity and staff from various departments including Punjab Civil Secretariat-1, Punjab Civil Secretariat-2 and Punjab Vidhan Sabha thronged to participate in this religious event.