Freedom fighters an asset for the nation: Chetan Singh Jauramajra

Punjabenews: With Chief Minister Bhagwant Mann's vision of giving utmost respect to Shaheed Bhagat Singh signifies his respect towards the valiants of the freedom struggle who risked laying down their lives for the nation. As a noble gesture to mark their contribution in freedom struggle, the Minister for Welfare of Freedom Fighters Chetan Singh Jauramajra is leaving no stone unturned for the welfare of freedom fighters.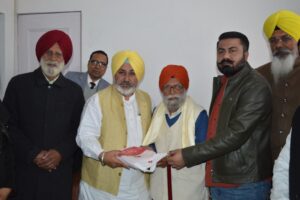 On the directions of CM Bhagwant Mann, Jauramajra launched a helpline number 0172-2740788 and an email
[email protected] for freedom fighters which would be helpful in addressing any kind of problem or inconvenience if they face. He further said with the launch of this number and email, freedom fighters need not to go to any government office for redressel of their grievances, infact upon getting any complaint on this helpline, government officials would visit their doorsteps and resolve any kind of difficulty being faced by them.
It is pertinent to mention here that it is for the first time in Punjab's governence history that the Minister Jauramajra himself visited the houses of the freedom fighters and enquired about their problems and instructed the officials for their immidiate resolution. He said it is due to the sacrifices made by these freedom fighters that we are relishing our freedom.