BRIDGE GAP BETWEEN INDUSTRY REQUIREMENTS & SKILLED MANPOWER, SAYS AMAN ARORA AS HE ASSUMES CHARGE AS EMPLOYMENT GENERATION MINISTER

Chandigarh: In order to fulfil the commitment of the Chief Minister S Bhagwant Mann led Punjab Government to provide maximum jobs opportunities for the youth, Cabinet Minister Mr Aman Arora on Monday asked Employment Generation, Skill Development and Training department officials to work more vigorously to make youth skilful to cater the needs of the industry and changing trends of the modern time.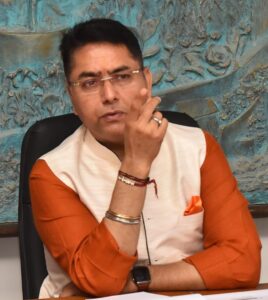 He was chairing a meeting here after assuming the charge as Minister of Employment Generation, Skill Development & Training.
While reviewing the functioning of the department, Mr Aman Arora emphasised that skilful youth should be readily available to bridge the gap between industry requirements and skilled manpower. He also asked the officials to come out with a comprehensive plan to impart training in the fields, which is in the demand and has a high rate of employability, so that the youth won't have to face hardships in getting job.
Giving a presentation, Secretary Employment Generation Skill, Development & Training Mr kumar Rahul and Director Employment Generation Ms Deepti Uppal apprised the Cabinet Minister that as many as 1,21,335 candidates have been facilitated by organising 2003 placement camps for private sector jobs. As many as 32,383 candidates have been imparted skill training and 799 camps organised in which 80329 candidates have been trained for self employment.
Ms Uppal further informed that five multi-skill development centres— in Amritsar, Bathinda, Jalandhar, Hoshiarpur and Ludhiana, are already imparting training in different courses to youth.
Director Mai Bhago Armed Forces Preparatory Institute Major General J.S. Sandhu, Director Maharaja Ranjit Singh Armed Forces Preparatory Institute Major General Ajay H Chauhan, Director General C-PYTE Major General Rambir Singh Mann also apprised the Mr. Aman Arora about the functioning of these institutes.
Joint Director Employment Generation Ms. Sanjeeda Beri,
General Manager Punjab Skill Development Mission, Punjab/PGRKAM Mr. Surinder Mohan and other officials of the department were also present in the meeting.