Baruni of Innocent Hearts got 98.6% in CBSE grade 10 result; 103 students got more than 90%

Punjab E News: The students of Innocent Hearts School, Green Model Town, Loharan , Cantt.- Jandiala Road and Nurpur achieved great success in Grade X result declared by the Central Board of Secondary Education (CBSE) for the year 2022-23. 24 Students scored above 95 percent and 103 students above 90 percent and 209 students got more than 80 percent marks.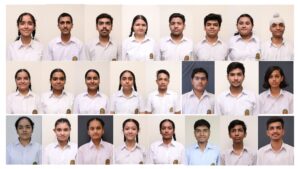 In the Green Model Town branch, Baruni Arora stood first by getting 98.6%. Arpit Gupta stood second by getting 98.4% Ajitesh Sofat achieved third position by getting 98%.
In the Loharan branch, Chinmay Arora stood first with 96.2%, Hitakshi Jain 95.8% got second position and Priyanshika Vij got 95.4% . In Cantt.- Jandiala Road, Gunika topped with 94%, Trisha Arora secured second position by securing 93%
Sarvinder Dadra 92%. In Nurpur Branch, Vivekmani stood first by getting 95%, Arjun Singh stood second 93% and Navtej 92.4%. In Green Model Town, students got maximum 100 marks in various subjects; 09 students in Maths, 01 students in Science, 03 in Social Science and 03 students in Punjabi, 05 students in IT and 01 in Marketing.
The Principal, Mr. Rajeev Paliwal: Green Model Town, Ms. Shallu Sehgal: Loharan, Mrs. Sonali Manocha : Cantt.- Jandiala Road, Mrs. Meenakshi Sharma : Nurpur applauded the efforts of the students and motivated them.
Dr. Anup Bowry Chairman, Innocent Hearts congratulated the teachers and parents on this stupendous success and wished the students all the best for their bright future.